At the time of his installation on Thursday 5th December 2019,  Bro. Mackay was one of Scotland's youngest reigning RWM's.
At 24 years and 6 months of age, Ewan Mackay was placed in the chair of King Solomon by PGMAE Bro. Douglas Nicol, Installing RWM, Bro. Norman Daniel PM (Lodge Keith No. 56) and his father Bro. Gordon Mackay PM (Lodge St.Olaf 1188).
Ewan was initiated as a Lewis Mason in January 2014 and later that year was installed as Inner Guard. He showed early promise as both an office bearer and competent ritualist and advanced in successive years through the offices of Junior Deacon, Senior Deacon, WJW and WSW before being elected as RWM of his Mother Lodge.
Ewan's progression to the East at such a young age is unusual, if not extremely rare indeed and brings with it a great responsibility for such a young man, Ewan fortunately is a remarkable young man who has always risen to a challenge.
Born 15 weeks premature he has always been a fighter, diagnosed with cerebral palsy at a very young age, he has never let this hold him back. Excelling as a cellist through his school years and graduating recently with a First-Class Honours Degree, Ewan is a talented young composer carving out a name for himself in the music industry.
He has already won several competitions and had his original work performed by professional musicians in several prestigious venues including the Barbican in London.
He is also a lay preacher in his local church and is in demand as a speaker where he gives talks on how he approaches life which proves popular and motivational to a wide range of audiences, Lodge St. Olaf have good reason to believe they are in safe hands with this young man.
left to right;
PGMASE Bro. Douglas Nicol
RWM Bro. Ewan Mackay
P.M, Bro Gordon Mackay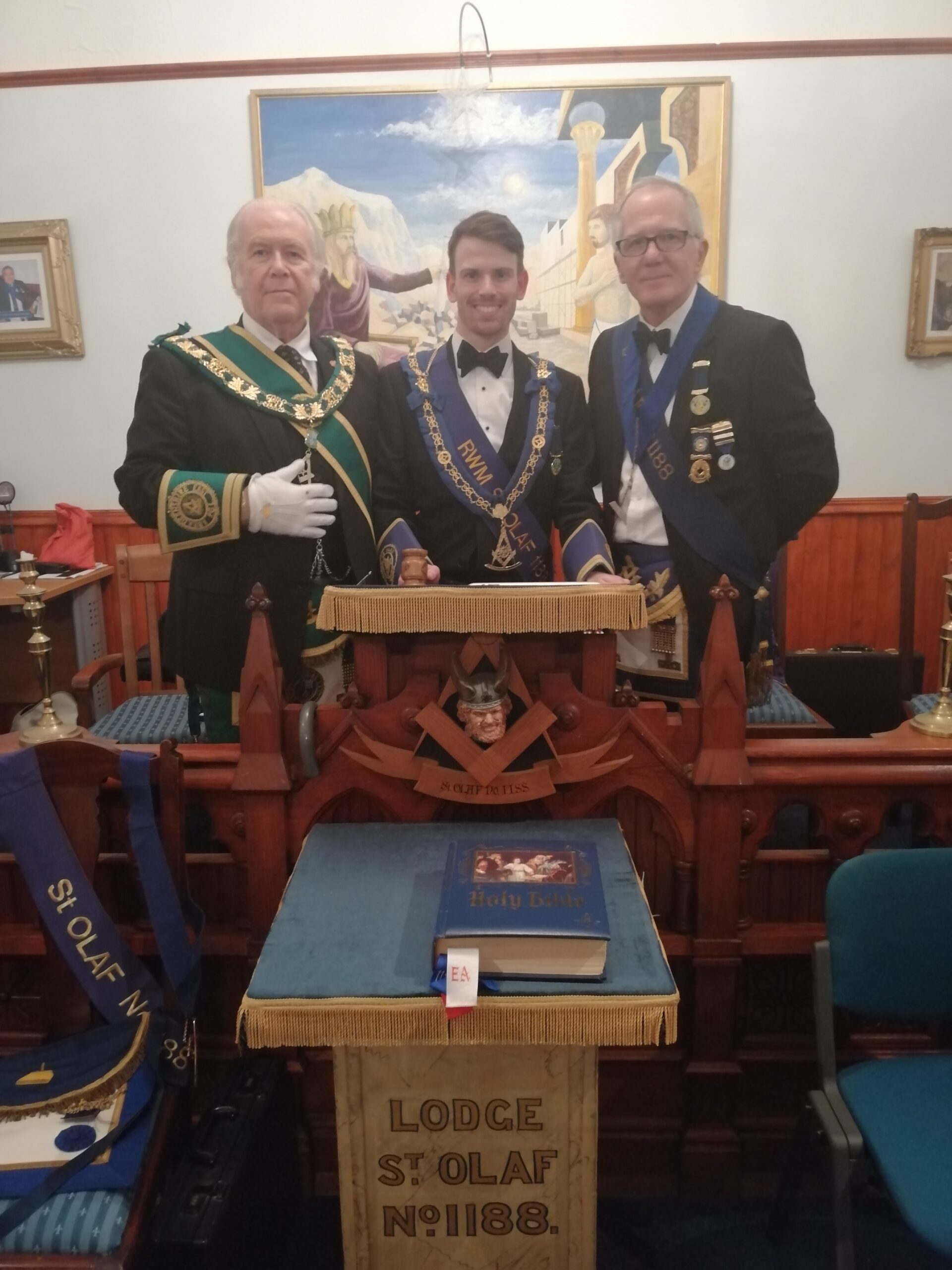 Office Bearers 2019 – 2022
R.W.M. Ewan Mackay
D.M. Gordon Mackay P.M.
W.S.W. Gordon Daly P.M.
W.J.W. Trevor Cooke
Sec. Mark Dunn P.M.
Tres. Doug Sheal
Almoner. Bill Murray P.M.
S.D. Sandy Tweddle
J.D. Chris Syme
I.G. Richard Parker
Chap. Simon Hope
Tyler. David Platt
Org. James Connor P.M.