Potential Meeting Dates for Season 2023-24
2023
Thursday 12th January – Lodge Of Instruction for 1st Degree
Carry out Ballot
Thursday 26th January – Burns Night
Burns Night will be celebrated in the Lodge Rooms with a Burns Supper.
Thursday 9th February – 1st Degree
Thursday 23rd February – Lodge Of Instruction for 2nd Degree
Thursday 9th March – 2nd Degree exemplification

Thursday 23rd March – Business Meeting
Recess Until Thursday 5th October
Thursday 6th April- Special meeting,  1st Degree
Saturday 9th September – Pizza and Beer in the refurbished Lodge Rooms
Thursday 5th October – Business Meeting 
Thursday 19th October – Second Degree
Thursday 2nd November – 2nd Degree
Sunday 12th November – Remembrance Day –
Wreath Laying at Cruden Bay Old Parish Church
Thursday 16th November – AGM – Affiliation
Thursday 30th November – Installation
Thursday 14th December – 3rd Degree (2 candidates) worked by the Past Masters of Lodge St. Olaf
 Thursday 28th December – Business Meeting
Open and close lodge, harmony evening.

2024
Thursday 11th January – 1st Degree
Thursday 25th January – Burns Night
Burns Night will be celebrated in the Lodge Rooms with a Burns Supper. The Lodge will tyled as usual at 19:30 to carry out essential business then close promptly by 19:45 to allow the Lodge Rooms to be prepared for the supper and welcome guests and entertainers.
Seating capacity is restricted to 40 and will be secured on a first come first served basis, if you'd like to join us you can register by clicking here
Thursday 1st February – Lodge of Instruction for Third Degree
Thursday 8th February – First Degree (Double)
Thursday 15th February – First Degree
Thursday 22nd February – First Degree
Thursday 7th March – Mark Master LOI
Thursday 21st March – Mark Master
Recess Until Thursday 3rd October
Register for up and coming events
The  Antient, Free and Accepted  Lodge of Scottish Freemasons have been meeting in Cruden Bay since 1919, since when the  "Lodge" has been a popular centre of friendship for hundreds of village men.
Freemasons Lodges meet on a regular basis, generally during the months between October and May.  Lodge St. Olaf meets fortnightly from the first Thursday in October through until March inclusive, check our meeting dates detailed above.
The local lodge in Cruden Bay, like all Masonic lodges, is actively involved in benevolent and charitable causes, and fund raises on an ongoing basis to provide support and assistance where it is needed. Lodge St Olaf, although only  a small village lodge, has donated tens of thousands of pounds to local causes since its inauguration in 1919, and remains committed to the self same principles to this day.
If you are interested in finding out more about the work carried out by Lodge St. Olaf, or Freemasonry in general, there is a great deal of useful information posted on the internet in general, and in sites like our which we hope you enjoy exploring.
The lodge always extends the hand of friendship to visiting freemasons, and is equally keen to meet potential new members who might like to join. If you fall into either of these categories, why don't you take this opportunity to make contact by e-mail.
Our Lodge has always been proud of its reputation as a friendly welcoming Lodge. Over the years we have hosted many fundraising events and taken part in a wide range of extracurricular adventures which have seen 'Adventurers' travel to every corner of Scotland, these were often fundraising projects in themselves which help boost lodge benevolence over the years.
The once infamous Ythan Raft Race was a regular outing for the Lodge, much of the fun and games can be read about on this website, be sure to check it out.
Below are a few headlights of some of the more current notes of interest, we hope you enjoy exploring our website, and thank you for visiting.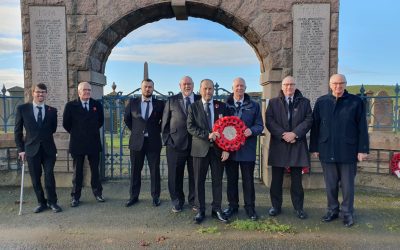 Members of the Lodge attended the Remembrance Day service at Cruden Old Parish Church on Sunday 12th November after which R.W.M. Trevor Cooke laid a wreath on behalf of the Lodge at the War Memorial. R.W.M. Bro. Cooke later placed crosses at the Lodge St. Olaf...
read more